Repairs, Fluid Purification, and Installations Repairs
Repairs extend the life and improve the reliability of transformers, circuit breakers, switches, and other high-voltage equipment. TSI has broad field and shop repair capability. Services provided include: Transformers, Voltage Class Thru 765KV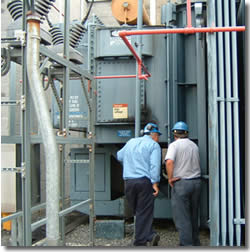 Circuit Breakers, Low Voltage 600 Volt Class
TSI has been an industry leader in transformer oil treatment since 1952. TSI has three truck-mounted oil purification systems that provide the following treatment of 10c mineral oil, cable oil, Rtemp, and bio-fluids:
Most transformers can be processed while energized provided there is adequate clearance from bushings and safe access to fill and drain valves.
TSI's process uses inline moisture monitoring, on-site dielectric tests, and fluid quality tests for process control.
TSI also has portable equipment to degas and dehydrate silicone-filled transformers.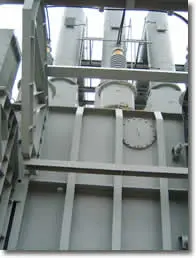 Vacuum Fills and On-Site Dry-Out
TSI's vacuum fill process ensures that a new transformer is thoroughly dehydrated prior to being put into service. The steps in the vacuum fill process are: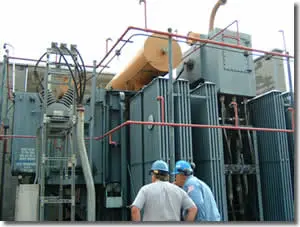 Installation and Acceptance Testing
TSI's experienced crews and licensed high voltage electricians are capable of installing, dressing, and acceptance testing of transformers and switchgear, large or small. TSI has a crane truck for equipment up to 9000 lbs and rents a crane for larger installations. We also have tankers and transformer oil treatment equipment for any size job.